| | |
| --- | --- |
| | Grant's Tomb & Grantstomb.org |
A Web Site for the Architect Designing a Renovation & Addition to the Grant Monument Association
In August of 2001 Garland Reynolds, FAIA - Architect commissioned ASSI to produce some design drawings for a project to renovate the Grant Memorial (Grant's Tomb) and add a visitor's center. Once complete ASSI offered to submit the project to the GMA (Grant Monument Association) via a web site. ASSI procured the domain grantstomb.org and posted the drawings there.
After reviewing the drawings the GMA asked if ASSI could do a little more to the site in order to make it THE web site for Grant's Tomb. That "little more" developed into a full bore web development project that resulted in the current web site.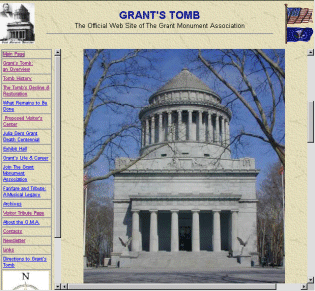 Community Service
ASSI has continued to develop and improve the web site at no cost to the GMA. The site has had more than 100,000 visitors and has become a well known site for the study and research of President Ulysses S. Grant. Many rare photos can be seen there The web site's documentation on the plight of the monument's condition has become an instrument in the fight to restore and maintain this American treasure.
Please visit http://grantstomb.org and enjoy the next best thing to an actual trip to the monument.
Thanks,
Vic Williams
377 Richardson Road, SE - Suite 1 - Calhoun, GA 30701 - ph: 770.886.6156